The Naked Brand
  
Disclaimer:
The Naked Brand is renting space in the LBL web-home until its home is finished being built! So come hang out, get acquainted with the content and let it affect you!
"Naked- the act of being vulnerable and  transparent in pursuit of transformation"

– Dhakeria Little
The Movement
The Movement is about spreading the message of standing in your power and on your story by stripping away the layers of "stuff" that covers up your brilliance, beauty, and blessings. "Stuff" can be fear, depression, inadequacy, anxiety, etc. that buries your authentic self and warps your God-given design.
The Book
Nude: Tales of an Enchanted Heart is the beginning stage of my "nakedness." I needed to get rid of my stuff because I could no longer manage the weight of it all. So I wrote. I spilled the contents of my heart randomly on pieces of paper. I vomited my stuff so that I can make room for my transformation.
The Show 
The concept and movement grew out of my one woman show entitled "Naked." It is a show where I tell my story and take you through my journey from being a girl to a woman and mother and the ups and downs therein. This show is a part of my Naked process where I bared my soul and began to stand in my power and on my story.
The Readings
The Naked Readings are an intimate and powerful event that is the discussion place for women to "strip" away the layers of "stuff" in their lives. It is the space where women are open and tell their stories, support and celebrate one another in community. Hosts are thoroughly prepared to lead transformation by being vulnerable and transparent as they read poems from my poetry book that resonate with their journey. The "Naked" attendees find themselves in the different facets of my story which speaks to the journey of most women. An attendee from the Naked Reading ATL said  she received her confirmation at the reading. Another sent a message to the host the next day saying "Thanks for inviting me. I'm going to start being more vulnerable. #iamNaked"
The Brochure 
The Program
The Naked Program is our signature program that guides you into the "stripping" process. You get the tools and strategies that accelerate your "dig deep" discoveries, reveals your authentic self, and strengthens your authentic voice so that you can get free from the "stuff," live in abundance, live in your God-given design, stand in your power and on your story. This is the process that helped me write a book, from it craft a one-woman show, tour that show, become my own boss, and unapologetically dominate in my niche. (Click pic to enlarge)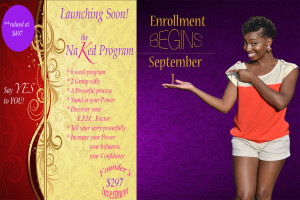 ENROLL FOR ONLY $99! ONLY 15 SPOTS AVAILABLE !!!!
FOUNDER'S INVESTMENT:  $297
Program:
6 weeks
3 modules
Tools and Strategies to stand in your power
Discover your E.P.I.C. Factor
Increase your power
Increase your influence
Increase you confidence
*all materials are downloadable*
The program is Valued at $497 but you will only pay $297 for a limited time after which it will go up!
Enroll Today for $99 and get started with:
The E.P.I.C. Assessment (Pre-Course)
The Program's Course Outline
Enrollment begins September 1, 2015. However, you can save your spot NOW with the first installment of $99. You will then have 2 additional payments of $99. You will receive the FULL program's course material upon receipt of your full payment. You will still be able to get started with the program upon receipt of your first payment. GET STARTED TODAY!!