Fundraiser Event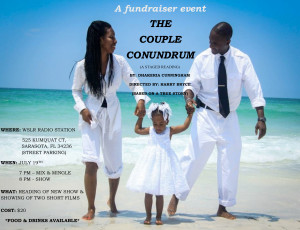 Funds raised at this performance will help support local actors Will Little and Dhakeria Cunningham as they travel to Winston-Salem, NC for the National Black Theatre Festival where their film "Drowning" has been accepted to be screened.
"The Couple Conundrum" synopsis:
"The Couple Conundrum" is a one-act two-person play based on the actual roller coaster relationship between Cunningham, who is the playwright, and Little who also helped develop the script. Through a funny therapy session the play explores the lovers' quarrels, the flashbacks to their young adulthood at Howard University, and gives an intimate spin on universal issues that couples undergo through the various phases of a relationship. Short films "Drowning" and "Resurrection" will also be screened.
Directed by: Harry Bryce
WSLR 96.5 Radio's
Fogartyville Community Media and Arts Center
525 Kumquat Court
Sarasota, FL 34236
Event Details
July 19th and 20th 8 pm
 Cost: $20
A staged reading of our newest original two-person play: The Couple Conundrum
A screening of our two short films: Drowning and Resurrection
© 2011-2015 Little Big League Productions LLC