14 May 2015
Discover Your Power in 31 Days: FREE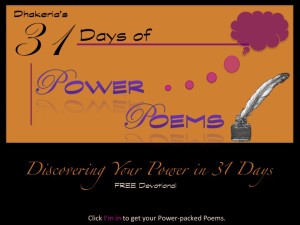 31 Days until the Launch of the Naked Readings! Join others in the daily power surge by receiving 31 Power-Packed Poems that will be delivery each day leading up to the first reading
Standing in honesty and truth is essential to owning your power. Being authentic, vulnerable and transparent are essential to telling your story. When you're vulnerable and transparent in telling your story you begin the transition from being trapped in your story to STANDING ON your story. That is what we call being NAKED. The Naked Readings are a part of a movement to empower you to go beyond the mediocrity of stagnation to exiling fear and making your success non-negotiable. We get NAKED through poetry and performance.
Sign up to:
• Receive 31 Free poems that have never been read and get updates on readings that may be in a city near you
• Discover the power that already exists within you to live abundantly
• Build the confidence and faith necessary to free yourself, own your power, and live the life that you are deserving of living
Don't miss out on the opportunity to get 31 FREE original pieces and 9 Bonus pieces from my book, Nude: Tales of an Enchanted Heart. Also be among the firsts to get access to content, launch dates, book launches, programs, products, shows, speaking engagements and more!
Your Sister in Divine Prosperity,